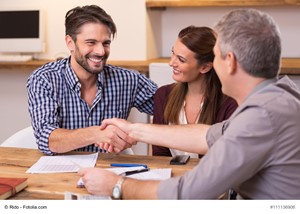 If you are in hot pursuit of your dream home, it is important to do everything you can to gain a leg up on the competition. That way, you can acquire your ideal residence as quickly as possible.
Now, let's take a look at three tips to help you gain a competitive advantage over your homebuying rivals.
1. Keep Track of the Local Housing Market
The top houses sell immediately, and as such, you may need to act fast to find and purchase your dream residence. If you keep track of the local housing market, however, you will be better equipped than other buyers to instantly acquire a house that suits you perfectly.
Monitor the housing market in cities and towns where you want to reside. Then, if you find a house you may want to buy, don't hesitate to set up a showing. And if you like what you see, you should submit a competitive offer to purchase this residence.
2. Get Your Finances in Order
Entering the housing market with pre-approval for a mortgage usually is a good idea. Because if you know how much you can spend on a residence, you can tailor your house search accordingly.
To get pre-approved for a mortgage, you should meet with a variety of banks and credit unions. Find out what mortgage options are available, and learn how different types of home financing work. Next, you can select a mortgage that enables you to begin your house search with a budget in hand.
Of course, if you have any concerns or questions about home financing, you should address them right away. If you speak with mortgage specialists at a bank or credit union, you can get the insights you need to make an informed mortgage selection.
3. Employ a Real Estate Agent
A real estate agent is a difference-maker, particularly for a homebuyer who is shopping for a residence in a fierce housing market. Typically, a real estate agent will work with a buyer to craft an in-depth property buying strategy. A real estate agent and homebuyer then will work together to put this plan into action and streamline the property buying journey.
In addition, a real estate agent offers guidance at each stage of the homebuying cycle. He or she first will help you hone your home search to a select group of cities and towns. A real estate agent next will keep you informed about houses that become available that match your homebuying criteria. If you find a house you want to purchase, a real estate agent will help you submit an aggressive property buying proposal. And if your offer to buy a home is accepted, a real estate agent will make it simple for you to finalize your house purchase.
As you get ready to pursue your dream residence, you should devote plenty of time and resources to prepare. Thanks to the aforementioned tips, you can prep for the homebuying journey, gain a competitive advantage over rival buyers and accelerate your house search.