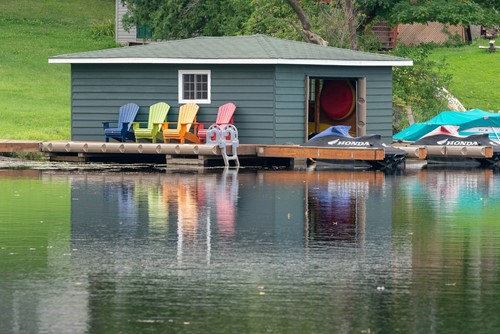 Photo by timokefoto via Pixabay
Buying property can be fun, but it can also be exhausting. You want to find a place that fits your personal lifestyle and invest in a home that'll bring you years of happiness. As you're looking at shorefront real estate:
1. Understand Your Access Rights to the Water
On the surface, it may look like a no-brainer that you have access to the water, but many people learn the hard way that their beautiful waterfront views don't have easements that allow access to the lake, pond, or ocean. Most people don't want a beautiful view of the water without being able to use it.
2. Know Your Waterfront Buffer Zones
State and local regulations may prohibit your landscaping plans from making forward progress if you're too close to tidal waters. Know the buffer zones before you buy so you're not stuck with a landscape you don't love.
3. Learn Your Littoral Rights
If you purchase waterfront real estate, you may very well be granted littoral rights—that is, you'd have unrestricted rights to use that water as though it was land. The government may also own the water up to a certain point, so it's best to gain this knowledge up front.
4. Know if You have Riparian Rights
If you purchase a non-riparian waterfront property, you likely won't be able to have a private dock or pier on the water. Since this is one of the major reasons people want to own waterfront property, it's important to understand these rights before you buy.
5. Understand Your Obligations Regarding Water Depth
You don't have any control over Mother Nature, but you do often have certain obligations in terms of what you're permitted to do in certain water depths. You may need to build a deck farther out into the water than you'd first anticipated in order adhere to depth regulations.
6. Look at the Fixtures Surrounding the Property
Certain watercraft, such as sailboats, need far more clearance than others. If your potential property is directly next to fixed-height bridges that wouldn't enable you to enjoy leisure time on your sailboat, that may not be the best home for you. Alternatively, people who enjoy kayaking wouldn't need to be concerned with fixed-height structures. In fact, those areas might be best for this type of buyer.
7. Research Regulations Impacting Docks and Piers
It's not atypical to have to purchase pier permits. Depending on your location, these regulations may be governed by federal, state, or local institutions. It's best to have an idea of the cost before you get your heart set on a single property.
8. Include Flood Insurance in Your Monthly Costs
Natural disasters can bolster the cost of flood insurance. Even if you think you'll never need it, a waterfront property is always best protected when flood insurance is calculated into the cost.
9. Know How Secluded You Really Want to Be
Waterfront real estate is appealing because it's quiet and serene, but if this will be your year-round residence, make sure you've taken winter into consideration if you're looking for lakefront property where snowfall can change the landscape quickly. Super-secluded spots can make it difficult to get to the store when blizzards hit, so you may want to look for a place that has easy access to shopping. However, if you're willing to rough it, or if you'll only be using the property in the summer, seclusion is a great way to go! Of course, if you're looking for beachfront property in Florida, parts of California or the Carolinas, winters won't really be a concern you'll have to worry about.
10. Explore the Pros and Cons of Private Beaches Versus Public Shores
There are pros and cons to each. Make sure you have an idea what you're looking for before you and your real estate agent start house-hunting, but be open to possibilities if your real estate agent has a property they insist you must see.
As you're shopping for waterfront real estate, be sure to keep these tips in mind. The more you know, the more likely you'll be to find a home that makes you happy for many years to come. Contact me if you have questions about buying waterfront property!