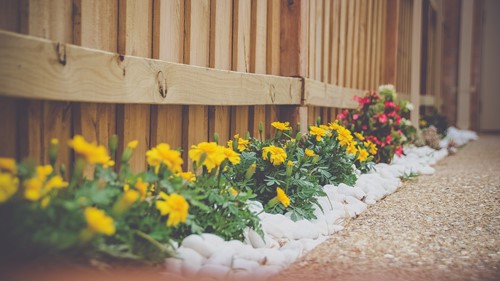 Garden edging is an aspect of landscaping design that serves both practical and aesthetic purposes. You can use edging as a decorative border around plant and flower beds, pathways and lawns using a variety of materials. Here we will go over some of the key benefits of garden edging as well as commonly used materials.
Why Use Garden Edging?
Edging not only creates a visual edge to various portions of a landscape, but also creates a physical barrier between them. Unlike a fence or raised garden bed wall, most garden edging is laid into the ground to be perfectly level with the surrounding landscape. What might look like a small barrier can have large benefits. One benefit is that edging creates a physical barrier between different parts of the landscape to confine loose and delicate material like potting soil. This will prevent messiness and also add a layer of defense against pests and wandering plant life. Using garden edging between turf grass and a flower bed will prevent the grass from invading the planting space. Also, garden edging made from looser material like gravel or sand can also assist with proper drainage.
What Are Some Common Edging Materials?
Brick - One of the most popular and widely used edging materials is brick. Because of its size and shape, it's easy to fit the edges of your garden in curves and straight lines. The color or brick can also create a great visual contrast when placed next to lawns, concrete or other stone surfaces.
Belgian Block - Belgian blocks are made of solid granite and are some of the most commonly used stones for pathways, driveways and patios. They are like brick in their rectangular shape but come in a variety of sizes and colors. Because granite is one of the toughest materials on the planet, Belgian blocks are extremely durable.
Concrete - Concrete is a great choice of edging material if you need specific measurements. You can cut concrete into custom shapes and sizes and even buy pre-made edging kits including corners and curves for easy installation. You can also make your own concrete blocks for an even more custom DIY approach.
Cedar - Wood edging is durable and a great way to create a natural and rustic look. You can use lots of different varieties of wood for garden edging, but cedar is by far the most popular because of its durability. You can find rolls of pre-made cedar edging in a variety of styles and use it to wrap around gardens of all sizes and shapes.
River Stone - Another excellent choice of edging material for a more natural and organic aesthetic is river stone. Since each stone is unique in size, shape and color, edging made from river stone will have lots of character and room for creativity. River stones contrast with other common materials like brick and Belgian block because they are rounded and smooth rather than rectangular. Unless set with mortar, however, river stone edging is typically loose and therefore not immune to being dislodged accidentally.
These are some of the most popular materials for landscape edging, but there are countless other ways to create borders between plant zones. Edging can be a great way to repurpose materials like glass bottles, cinder blocks or even plastic. Regardless of the material you choose, it can be an excellent DIY project and will benefit both the look and health of your landscape.