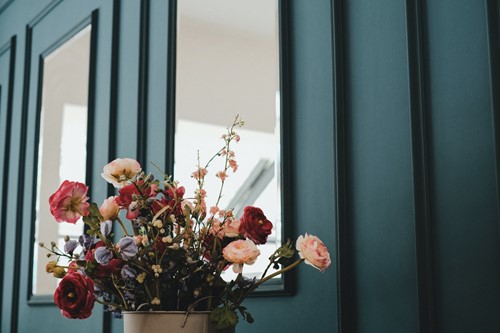 From cozy nooks inside your home to bedrooms that are quaint and quiet, small spaces may feel difficult to decorate — but they don't have to be. In fact, there are endless possibilities for adding decor to these tiny spots in your home.
Here are a few tips to help you get started decorating those smaller areas:
Use Mirrors to Make the Space Feel Larger
Mirrors are one of the most powerful home decor items, particularly when they are used in small spaces. The reflection in the mirror gives the room a larger appearance and can help reduce any feeling of claustrophobia that one might have in that space. From large, wall-sized mirrors to smaller accent mirrors, you can find the piece that is right for the cozy space you are decorating.
Choose Smaller Furniture
One of the most common mistakes that people make when decorating a small room is that they invest in standard-sized furniture. If your living room is smaller than most, for example, you do not need to purchase a full-sized sofa that takes up all the available room. Instead, you could opt for two sitting chairs and a small ottoman, allowing the space to be functional and comfortable without being cramped.
Incorporate Shelving to Increase Storage and Save Space
When decorating a small room such as an office you will want to try to keep as much off of the floors as possible. This will help give the room a clean, open appearance and will prevent it from seeming cluttered. One of the ways to keep everything off the floor is to install shelving on the walls that will allow you to store the items that you use in the room as well as display a few decorative accent pieces.
Use a Simple Color Palette
Too many colors or patterns can actually make the room appear to be smaller than it is. If you want to avoid shrinking your room, you should consider a simple color palette of just one or two colors. Neutral colors, such as white, beige or taupe are often an ideal choice for a smaller area. These light colors help brighten up the room and they give you the opportunity to use small pops of color with the decorative accents that you select.
Add Light Sources to Brighten It Up
In the event that the smallest area of your home does not have adequate natural light, you can make the space appear larger by investing in new light sources. A small lamp or a ceiling fan with lights will brighten up the area and subsequently make it feel a bit bigger.
Enhance the Room with a Large Rug
A large floor covering will help set the space apart from other areas in your home and can play a big impact in the perceived size of the room. You also have a chance to add different colors and textures to your room depending on the rug that you choose.
Small spaces still have big potential, and when you decorate them properly, these spaces can increase the overall functionality of your home. One of the best things you can do for yourself and your home is to utilize every possible corner in the most effective and efficient way.